Sunday Genealogy Workshops
Sunday March 26, May 7, May 28 and June 25 7:00-9:00pm
Temple B'nai Tikvah: 900 47 Ave SW (West Door)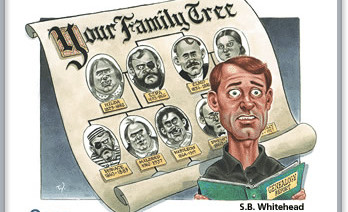 Following the success of the Genealogy sessions offered last year, our Chair of Genealogy, Ken Drabinsky, has decided to offer a series of free, drop-in workshops on Sundays throughout the year. These will be more informal sessions with group and one-on-one discussion in which Ken will be available to offer help with an array of research problems and methodology.
Possible topics include online internet searches; Polish, Romanian and Russian Records; WWII Canadian Military records; Yad Vashem searches; and Holocaust databases along with other research advice. Please bring questions, quests, stories, or just your curiosity.
Upcoming Dates:
March 26
May 7
May 28
June 25
All workshops are at 7pm at Temple B'nai Tikvah
There is no fee for these workshops, but Ken would appreciate an RSVP. Please contact us.